Does your communication stand out? Truly? Does it make your employees feel proud while distancing your competitors – and creating engagement for your customers?
For more than 25 years, we have helped both Danish and global companies stand out from the crowd. With storytelling, engaging campaigns, strategic communications and digital initiatives that create meaning, connection and loyalty.
At Helium, we take a holistic approach to every task. Each communication effort is unique, but the message must be connected to the foundation. That is why we always devise concepts based on you and your business. That's how we believe you get the most value.
We have strong business understanding and insider knowledge of how organisations work. And we know that good project management is as much about delivering within deadlines as it is ensuring the right people are involved at the right times.
We have a large network of skilled and creative people – meaning we can easily take care of tasks, even large ones. Also those tasks which demand a slightly different perspective than the Danish. Our partners in the Nordic countries and in Germany make it easy to roll out campaigns and initiatives across national borders.
At Helium Communications you get a committed and flexible PR partner that takes responsibility. With us, you won't be a number in an Excel sheet or a pile to be shoved on to the next day. We are with you all the way and ready to run when you are.
Strategy and advice
We plan and manage communications and press, ensuring that our clients are prepared to navigate stakeholders, agendas, and trends.
SoMe and content
We specialize in content that creates value and visibility from the great LinkedIn post to the successful SoMe campaign.
Brand identity
We will help you stand out from the crowd. Together, we focus on your core values, giving your business the impact and growth, it needs.
Project management
We have solid experience in project management. Our approach is structured and methodical which ensures that we get the job done, whatever the scope.
Creative campaigns
Campaigns can move people and opinions. With a creative approach and a constant focus on the goal we plan and execute campaigns that deliver results.
Event and PR
A successful event can engage customers and attract partners. We plan every step of the way, from concept to execution.
Press
We know how hard it can be to get your messages across. But we know the press and will make sure that you get your stories told in the right place at the right time
Texts
Business cards, catalogues, press releases, websites, opinion pieces – you name it. Our texts are always well edited and on point.
International network
Need to scale your business internationally? We have over the last 25 years built a solid network of partners in the Nordics, Europe, and the US.
Interim management
Are you going through a peak period? Are you facing an organizational change? Or do you have an employee who needs to go on leave? We can step in at any time and take on your communications for shorter or longer periods.
Over the years, we have helped a wide range of brands and businesses strengthen their communications. Our clients include well-established international brands, major cultural institutions, and visionary tech start-ups.
Avaya . CHEP . Copydan Verdens TV . Copydan KulturPlus . Copydan AVU-medier . Copydan Arkiv . Copydan Tekst & Node . Coromatic . Danske Dramatikere . Dansk Revision . Dansk Filmfotograf Forbund . De Gule Sider . Discovery Channel . EasyPark . Emendo . Film- og Tv-arbejderforeningen . F-secure . FSN Capital . Goethe Institut Dänemark . IBM . Intel . Kodak . Konica Minolta . Lenovo . Mondo . Nets . Niras . Nvidia . ORDO Recruitment . Panasonic . PayPal . Phillips . Profil Optik . Pure . Redpill Linpro . SanDisk . Steelseries . Stibo . Symantec . Xerox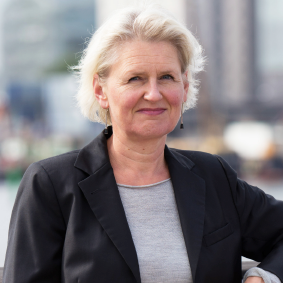 We never go into anything half-heartedly, which is why your business becomes key to us. We are particularly good at seeing the holes in the cheese and asking the questions that enable us to support and strengthen your business through communication. Whether the focus is your website, your content on SoMe, media mentions, sales materials, campaigning or your participation at events and trade fair.
Lise Schubart
CEO